Security Awareness Training
News headlines of hackers and data breaches force cyber security to the forefront of your mind. Sophisticated phishing and ransomware attacks require strategic solutions. While an IT security system is essential to any business, equipping all team members to recognize and defeat cyber attacks is a proven tactic in the battle against cybercrime. Without a doubt, knowledgeable team members are the final shield in your line of prevention and defense. However, teaching a entire team in security awareness training takes extra time, expense, and skill. Such complicated endeavors can distract you from your daily services. In today's overwhelming technology battles, sometimes it's time to call in the reinforcements.
Burgess Technology Services can assist in equipping your team to meet cyber attacks head-on. Because we recognize that a prepared team is a winning team, we proudly partner with a leading authority in security awareness training, whose proven combination of web-based training and mock phishing attacks produces results you can see.
Do you want the benefits of an empowered team, but don't know where to start? As front runners in IT security, Burgess Technology Services manages security training for your employees so you don't have to. In an innovate manner, building out training campaigns, BTS monitors employee progress and provides corresponding reports. Immediately see your strengths and weaknesses at a glance.
Equip your team to recognize and eliminate cyber attacks before they invade your network. Create a shield of security that lasts. Discover the benefits of security awareness training.
How Security Awareness Training Works

We Train Your Users
Educate with access to the world's largest library of security awareness training content.
Experience interactive modules, videos, games, posters and newsletters.
Conduct efficient monthly training with 2-4 short videos.
Test and solidify knowledge with short quizzes.

Monitor employee progress and provide corresponding reports.

Organize automated training campaigns with scheduled reminder emails.

We Phish Your Users
Administer best-in-class, fully-automated mock phishing attacks.
Access hundreds of templates with unlimited usage and community phishing templates.
Diagnose weaknesses. See who "took the bait" – who entered credentials (depending upon the scam).

You See the Results
Receive enterprise-strength reporting, showing stats and graphs for both training and phishing, ready for management.
Analyze strengths and weaknesses at a glance.
Secure network confidence with an educated, empowered team.
Prevent problems before they start.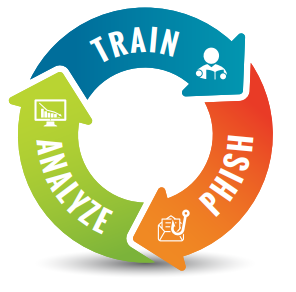 "People are used to having a technology solution [but] social engineering bypasses all technologies, including firewalls. Technology is critical, but we have to look at people and processes. Social engineering is a form of hacking that uses influence tactics."
Kevin Mitnick, American Computer Security Expert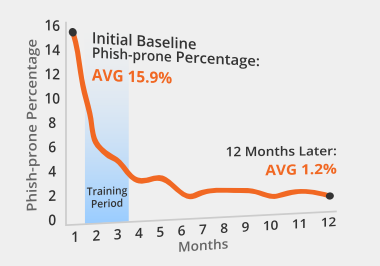 After years of real-world experience in security awareness training, our partners decided to review the actual numbers over a 12-month period.
As a result, the overall Phish-prone percentage significantly dropped from a concerning average of 15.9% to an incredible 1.2%...in just 12 months! Clearly, this innovative combination of web-based training and frequent simulated phishing attacks really works.
Find out How Effective Our Security Awareness Training Is
Burgess Technology Services proudly partners with the world's most popular integrated platform for awareness training combined with simulated phishing attacks. Join the more than 10,000 customers to effectively manage the continuing problem of social engineering.

Unlimited Use
Three Training Access Levels giving you access to our content library of 300+ items (based on your subscription level).
Unlimited access to all phishing features with flexible licensing.
Powerful new features added regularly.

Custom Phishing Templates
Hundreds of easy-to-use templates.
Customizable scenarios based on personal information.
Targeted spear phishing campaigns, customizable to replace fields with personalized data.
Phishing Reply Tracking – track if a user replies to a simulated phishing email and capture the information sent in the reply.

Simulated Attachments
Your customized phishing templates can include simulated attachments in the following formats: Word, Excel, PowerPoint, and PDF (also zipped versions of these files).

Custom Landing Pages
Create custom landing pages for each phishing email template.
Specifically phish for sensitive information.
Utilize results for point-of-failure education.
User Management
Active Directory Integration allows you to easily upload user data.
Save time by eliminating the need to manually manage user changes.

Automated Security Awareness Program (ASAP)
Create a customized Security Awareness Program for your organization with this revolutionary new tool.
Implement all the steps needed to produce a fully mature training program in just a few minutes!

Social Engineering Indicators
Patent-pending technology turns every simulated phishing email into a tool IT can utilize.
Dynamically train employees by instantly showing them the hidden red flags they missed within that email.

Phish Alert Button
Gives your users a safe way to forward email threats to the security team for analysis.
Deletes the email from the user's inbox to prevent future exposure.
All with just one click!

Detailed Reporting
Get reporting for phishing campaigns.
Obtain a general overview of your last 5 campaigns.
Drill down into one-time and recurring campaigns for more detail.