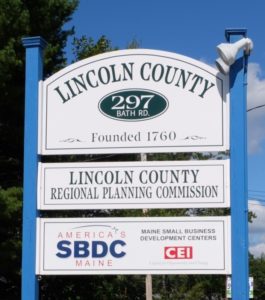 The next Wiscasset Area Chamber After Hours will be held September 15th from 5:30 – 7:30 at the Lincoln County Regional Planning office, 297 Bath Road, across from Big Al's. The event, co-hosted by Burgess Technology Services will offer sweet and savory treats along with cold beverages and cider to welcome the changing season.
Attendees will have the chance to win one of several door prizes from members including Wiscasset Woods Lodge, Ames Supply, Red Cloak Haunted History Tours and technology services compliments of BTS.
The Lincoln County Regional Planning Commission (www.lcrpc.org) promotes sustainable economic and community development, land use, and transportation. The LCRPC officially began in 2010 when two long-standing county services, Lincoln County Economic Development Office and County Planning, merged into one. The LCRPC is directed by a board of municipal and county officials and interested citizens.
The staff provides land use, transportation, economic, and community development planning and technical assistance to towns, businesses, and non-profits. Projects include natural resource conservation, brownfields assessment, business support, grant assistance for municipal projects and business growth, and a variety of other local and county-wide activities.
Executive director Mary Ellen Barnes adds "The LCRPC is proud to be among the founding members of the Wiscasset Area Chamber of Commerce, and excited to be co-hosting with Burgess!"
With over 30 years in business, Burgess Technology Services (btsmaine.com) is a comprehensive tech firm headquartered in Bath, serving many communities in Southern, Midcoast and Central Maine and across New England. Burgess provides Managed IT Services, Network Design & Analysis, Computer Repair, Help Desk Support, Web Hosting & Cloud Services, as well as Disaster Recovery Solutions, Vulnerability Testing, PCI Compliance & Voice Over IP telecommunications. Their team of experts also provide custom programming, software development and project management. Clients range from small businesses to large organizations in many sectors: commercial, non-profit, municipal, military, education, and industrial/manufacturing.
For more information and to RSVP for this event, please call Vickie Hersom at 882-7571 or email Tamara Lilly at tlilly@btsmaine.com