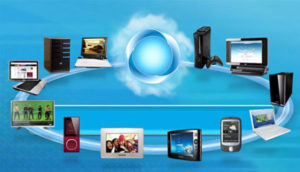 STORAGE – If you need additional storage consider connecting up with a cloud provider who can deliver Infrastructure as a service. Rather than buying another expensive box for your storage, you can begin placing your data securely in the cloud. And one of the best things is that it will be available to you at a lower cost than you can imagine. All you'll need is a connection to the cloud providers' data center to begin reaping the benefits. Make sure the data center is a SAS70 compliant organization – this means that they have the certifications to support you with your HIPPA, SOX, and PCI requirements.
DISASTER RECOVERY – If you've been looking for an easy way to back up and mirror your critical information at a location that's 200-300 miles+ away from your primary site, look to the cloud for this. All you need is a connection to the provider and they can back up and mirror your data at (in many cases) one of their data centers that's a state or two away.
SURVIVABILITY – All things being equal, most cloud providers will have strict requirements at their data centers. Rarely built in flood plains, or susceptible to wind storms or tornadoes, these data centers are built to last and protect your data better than you or I ever could. Setting up a private cloud which is behind your firewall and accessible only by you and your staff is a great way to insure that even if your primary data center is taken out, your network isn't.
REDUNDANCY – Many of the large carriers are now in cloud computing and can do a phenomenal job at helping you, but going with a provider which is carrier neutral (agnostic) is a better option in our opinion. Partnering with a provider that has relationships with all the carriers allows you as a business or local government to use the carrier you already have to add an additional port for your WAN (Wide Area Network). In many cases these same groups can provide you a multi carrier connection to the Internet to act as your primary connection or a redundant connection to what you're already using.
What are your thoughts? Can your company find additional benefits with cloud services? Let Burgess Computer help you find out. Contact us today!