My wife works as a local web designer. Her computer is set up to use dual monitors which allows her to have several browser windows and applications running at one time. One evening, as she was shutting everything down, she found a pop up window. Assuming that it had loaded after visiting an ad-heavy website, she knew it was "phishy" and did some research on the Comcast survey scam.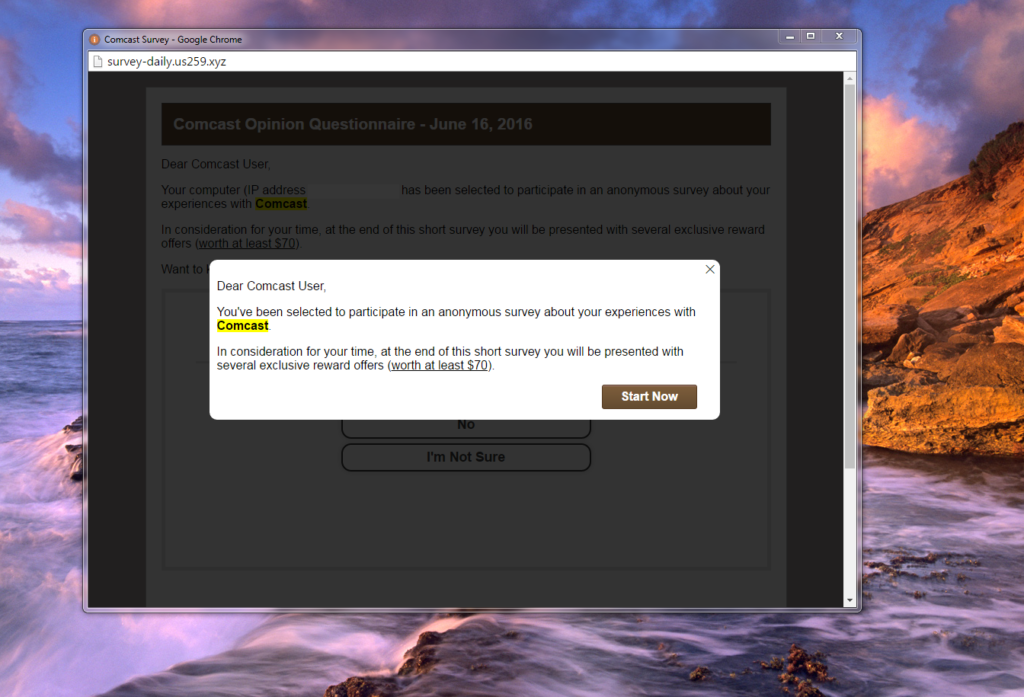 "Comcast" Survey Scam
The Comcast Survey Scam is NOT a legitimate survey from Comcast. Instead, it is a spammy way to get you to sign up for products and services you think may be free. In reality, the products and services you sign up for have monthly fees that will kick in after a "trial period" and are often difficult to cancel. Even the "free" products have shipping and handling costs that you have to pay for in order to get the "free" product.
One of the first tricks this scam uses is the name of your ISP 
The pop up window starts with Dear Comcast User. In the body of the message and in the background, "Comcast"  appears in a number of places. Most people think this is a legitimate message from Comcast. It's not.
Most people think this is a legitimate message from Comcast. It's not.
Your ISP (Internet Service Provider) is public information and can be automatically pulled from the unique IP address of your computer. Computer scammers are able to write a program that looks to see what ISP you use. Then, your ISP name is inserted into the message automatically, making it appear legitimate.
The second trick is to promise financial rewards.
You know the old saying, "If it seems too good to be true, it probably is." The exclusive reward offers are nothing more than a sales pitch for products and services that bill you monthly and are hard to cancel.
Read the Fine Print
Here is the fine print explaining that the company marketing this survey has NO AFFILIATION TO COMCAST.
2016 All Rights Reserved. This is an independent survey and marketing website which is not affiliated with or endorsed by Comcast. This website does not claim to represent or own any of the trademarks, tradenames or rights associated with any of the offers which are the property of their respective owners who do not own, endorse, or promote this website.  All images on this website are readily available in various places on the Internet and believed to be in public domain according to the U.S. Copyright Fair Use Act.
How the Scammers Get Your Money
These scams exist to get you to sign up for products & services that have monthly fees attached to them. The companies make it very hard for people to cancel. Often people don't realize that they've signed up for these types of things until they see that money has been taken from their bank account or charged to their credit card.
We've made the "fine print" larger so you can see exactly what happens when you take the "survey".
We've made the "fine print" larger so you can see exactly what happens.
"This website receives compensation in exchange for promoting third party offers and the free trial offers available on this page pay this website for orders placed.
Once you decide to select an offer, keep in mind you will be billed an amount described in the offer's terms & conditions after the trial period ends unless you call to cancel.
Depending on the offer, you may also be billed every 30 days for a new delivery of the product (you may cancel any time by calling the merchant).
*Free trial offers require shipping and handling fees. See manufacturer's site for details as terms vary with offers. See important terms and conditions regarding this survey, site, and advertisement here."
Do yourself (and your bank account) a favor and don't risk getting stuck paying for something you don't need or want. 
Protect Yourself
Keep yourself protected online by doing your research before participating in any sort of "request" to ensure it's legitimacy. If you are reading this, it means that you already are, so "Well Done"! Be sure to share this information with co-workers, family & friends – especially those who may fall victim to this type of scam.
Important Note
It's important to note that Comcast does not initiate this scam and may be unaware that their name is being used in an attempt to trick you.