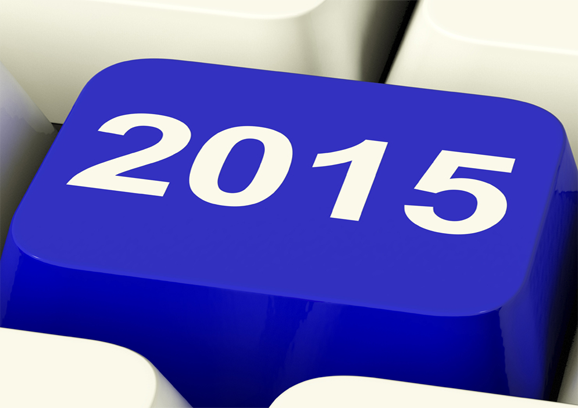 In addition to your personal New Year's Resolutions for 2015, be sure to also set goals for your computer systems to avoid issues and reduce stress.
Here is a checklist to get you started. Share it with your friends & co-workers, or print it here: 5 Tech Resolutions for the New Year.
BACK UP IMPORTANT DATA




Ensure you have a reliable backup for any information you can't live without.

For business users this is the data you need everyday to run your business such as customer data, email, QuickBooks, Word documents, Excel spreadsheets & Access databases.

For personal computer users, this is your personal email files & budget spreadsheet. And don't forget all of the photos you have taken of baby Johnny or that special vacation you took recently!
UPDATE SOFTWARE & HARDWARE
Outdated components leaves you vulnerable to attack
Business users, what software is your server running? If it's Microsoft Server 2003, make a plan now to upgrade this mission-critical software before support ends in July. Planning early saves money in the long run and reduces stress! This is also the time to replace old hardware to minimize risk. Rule of thumb is anything older than 4 years.

Still using Windows XP? 1 in 7 people do, so you are not alone, but it is time to protect yourself with an upgrade…
PROTECT AGAINST VIRUSES & MALWARE




Update your anti-virus software regularly & be cautious of emails

For business users, having a managed anti-virus solution can protect your network from online threats like Cryptowall, which encrypts your data and then demands a monetary ransom to get it back. A potentially devasting situation for business owners. You don't want that, trust us.

For personal computer users, steer clear of untrusted websites (like gambling & couponing) and don't open unsolicited email, especially those with attachments. (actually this goes for business users, too!)
REMOVE DUST & CLEAN UP YOUR DESKTOP


Compressed Air is Your Friend!
For all computer users, pick up a can of compressed air at your local office supply store and carefully clean dust from the crevices of your computer. Don't forget to spray out your keyboard and all those cookie crumbs leftover from Christmas…or is that just us?!

Then take a few minutes, to sort out the icons on your desktop. There's probably a lot that can find its way to the recycle bin or be filed neatly into a folder. Ahhh….isn't that better?
Our wish for you in 2015 is less technology stress and more business success!
Together, we can make that happen. Happy New Year!