Microsoft's much anticipated computer operating system, Windows 10™, is here – and so far it's living up to the hype!
Microsoft's latest operating system, Windows 10 ™, was released on July 29th. It's a free upgrade for Windows 7 and 8.1 users, making it an attractive proposition. We wanted to take a moment and tell you about it.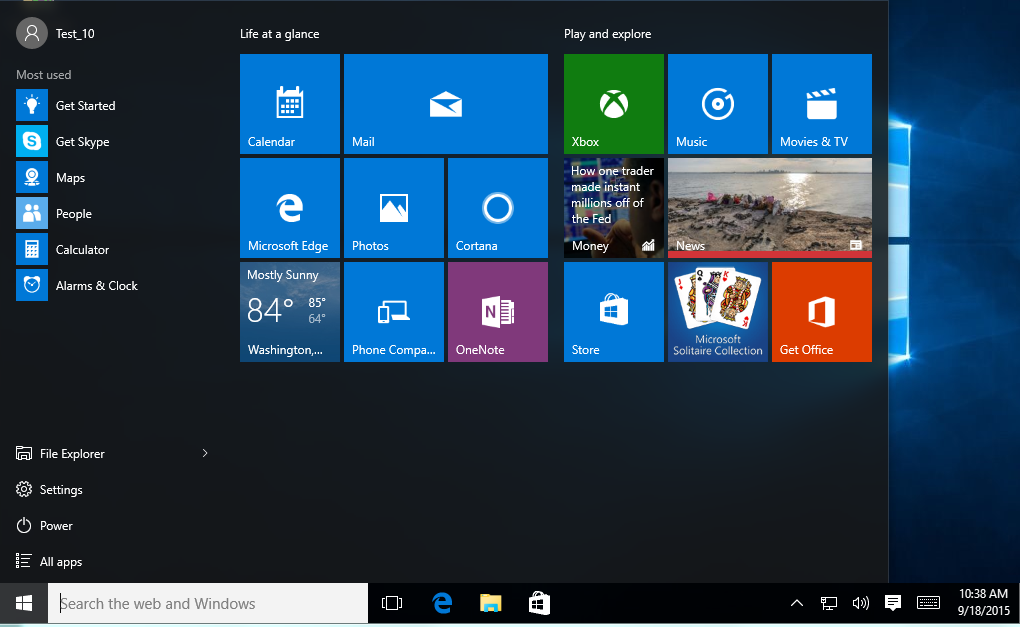 Windows 10 combines the greatest features of both Windows 7™ and Windows 8.1™. The user interface is intuitive, friendly and features better touchscreen support for tablet users. Microsoft's goal is to have a familiar look and feel across all devices like computers, tablets, gaming systems and phones. Here's a brief highlight of some of the new features;
Edge Browser – Microsoft's latest browser, Edge, is bundled with Windows 10. It's a slimmed down version of Internet Explorer, so it's sleek and offers improved performance. Internet Explorer 11 is also included, if you need that version to support business applications.
Start Menu – after a hiatus in Windows 8™, the start menu is back – with the addition of "live tiles". Tiles are shown on the right and display commonly used applications, so they can be quickly accessed. Live tiles provide real-time updates via the internet, so information like weather, stock prices, and news are conveniently displayed.
Universal Apps – Windows 10™ has the ability to run universal apps. Universal apps can run on different hardware platforms, such as phones, tablets, computers, even the Xbox One – as long as they all use Windows 10™. This makes it easier for developers to create new applications, and allows you the ability to access your programs from any device.
Shared wireless – somewhat controversial, this feature allows you to share your wireless internet connection with any contacts from Outlook or Facebook. You have to approve this function, as it does not happen automatically. In some respects, it might actually be more secure – since you're not giving the password directly to your friends. If you prefer not to engage in this wireless network sharing, just add _optout to the end of your wireless network name. For example, changing the network name from "MyWireless" to "MyWireless_optout" will prevent this feature from working.
Our testing has been positive, but not without a few eyebrow raising bugs or features discovered. As with any new operating system, this is to be expected.
Windows 10™ offers a smooth transition for users of Windows 7™ and 8™. The upgrade is an "in place" upgrade, meaning all your files and applications remain installed. However, you might find you need to reinstall some applications after an upgrade. It's a good idea to see if all your critical applications and peripherals, such as printers, are compatible with Windows 10 before upgrading. Check with the software or peripheral manufacturer to be sure. And always make a backup before taking the plunge!
For businesses, upgrades such as this need to be carefully planned. Testing should be done prior to any deployments. Line of business applications, printer drivers, antivirus and other programs need thorough research to check compatibility. We recommend waiting several months before attempting any upgrades, so that the initial bugs are worked out by Microsoft, and software vendors have a chance to catch up. If you are interested in exploring an upgrade now or in the future, contact us to find out how to make it happen smoothly.
TAKEAWAY
Businesses need to plan the upgrade to Windows 10™
Ensure all programs are compatible with this new operating system
ALWAYS make a good backup of your files before upgrading any software
The Start Menu is back after popular demand
Be sure to configure the Shared Wireless technology to your preferences
Don't click the Windows 10 prompt without careful consideration
Contact us to learn more about upgrading to Windows 10™.
Our computer network engineers are ready to help your business have a successful Windows 10™ Upgrade – from researching third-party software compatibility, to capturing your data in a reliable online backup and working the upgrade into your schedule. Contact us for more information by completing the form below or by calling us at (207) 443-9554.