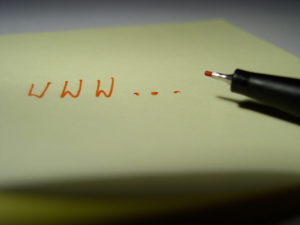 Your virtual address
If you own or operate a business, chances are pretty good you have a website. Websites are your advertising, your marketing, and provide important information to your customers. People expect to be able to find your business address, contact information, hours of operation and other things from your website. If you don't have one, chances are customers will keep searching for someone who does. When you decided to get on the web, the first step was usually to purchase a "domain name". A domain name is the part after "www" that has your business name or variation thereof, so that people can type it into a browser and see your website. Domain names are purchased through "registries", which are companies that provide domain name registration services and manage the recordkeeping involved. Go Daddy and Network Solutions are two popular domain registry companies.
Perhaps the person creating your website purchased the domain name on your behalf. Maybe you purchased it yourself. During the purchase process information such as who owns the domain, their addresses, phone numbers and email contacts were entered. The length of time to register the domain would also have been selected. These details becomes a record with the registry, and is known as WHOIS information.
WHOIS information is the official record of domain ownership. The information will have three contacts; a Registrant (the official owner with highest authority), an Admin (similar to Registrant, but no ownership rights), and a Technical contact (can make technical updates to the domain name). Finally, the WHOIS will display something called "name servers". Name servers are responsible for directing requests for your website to the proper webserver, so that your webpage – and not somebody else's – is displayed.
Domain registration WHOIS information is typically public, but can be made private. It's recommended to do this in higher security scenarios such as banks or governments, so that hackers don't have contact information that could be used in a scam attempt. If the information has not been made private, you can lookup who owns a domain name by using a lookup service like ICANN's http://whois.icann.org/en. These services will display the underlying domain ownership contact WHOIS information. If you have one, you can try looking up your own domain name and see what's listed.
There can be only one
Domain name registrations are like car registrations, in that they belong to an individual or corporation and that information is held by an authority. Domain registry companies such as Network Solutions or Go Daddy manage the purchases and transfers of domain registrations, help verify that the ownership information is correct, and act as the official holder of the domain registration WHOIS information.
Like a phone number, only one unique domain name can exist on the web. When you type the domain name in a browser, it has to be directed to one server on the internet, so that the correct content can be displayed. Name servers contained in the WHOIS information allow people to find your website. Your computer knows where to go to view a website by looking at the server address contained in the name servers.
If you have your own domain name and website, chances are you also have email with it. Similar to how typing in a domain name in your browser directs you to the right web server, when someone sends you an email their email system looks up the address of the server to send it to. This information is also contained in the details of your domain name registration, and won't work if the information is inaccurate or your domain name registration has expired.
Domain Name Expirations
Again like car registrations, domain names have to be renewed at least yearly. However, it is possible to purchase longer registration periods of one, two, even up to 10 years. Extending the registration period makes sense if you plan on keeping the domain, as it not only offers a monetary savings but saves you from having to remember to register it every year.
The contact email information contained in the WHOIS is used to alert the owner and also the technical contact of an impending renewal. If the information is inaccurate, the right people may never know, and the domain registration will expire. Once that happens, your website will stop working. Your email will stop working. And someone else can register your domain name, legally, and either use it for their own purposes or hold it for ransom. It's important to know when your domain expires, so you can renew it prior to the expiration.
Scams
Domain registration scams are out there, and can potentially exploit you by sending deceiving letters or emails regarding your domain. One such scam, known as "domain slamming" is to warn you of your domain expiration, and request a check or credit card to renew the domain. This may come as a letter in the mail, making it appear genuine and official. The catch is that the company doing this is NOT who you originally registered the domain with, and if you follow their request you're actually transferring the domain to them. This may not only cause technical glitches, but they may charge a much higher fee.
It's a good practice to always check with your website developer, or your IT provider before renewing a domain – just to be sure there isn't anything out of the ordinary.
Review your WHOIS
Your domain name is critical to keeping your website and email working, so it's important to verify the WHOIS information is accurate. Documenting the renewal date is also a good idea, since renewal email reminders can get missed. If you find information is inaccurate or outdated, work with your web designer or IT provider to correct any discrepancies. Avoiding the headaches of expired domains or inaccurate information will keep your website and email functioning as it should!